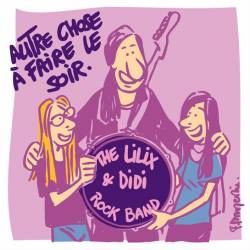 Lilix And Didi Rock Band : Autre Chose à Faire le Soir
Blues Rock-France, « Autre Chose à Faire le Soir », c'est l'argument d'une jeunesse qui réalise parfois des miracles.
Hacktivist : 15/20
Man Is Not A Bird : Survived the Great Flood
Post-Rock-France, Autant abrupte que tranquille, sauvage et délicat à la fois, difficile de trouver un juste milieu
Just_an_Ellipsis : 15/20
Thin Lizzy : Renegade
Hard-Rock-Irlande, C'est un étranger qui rôde dans la nuit. À nos yeux, c'est un rebelle...
frozenheart
Compilations : Chills, Fever, Sore Throat, Muscle Pains, Headaches and General Discomfort
Rock-Inconnu, Une compilation solide et agréable malgré quelques défauts gênants.
Brozzy21 : 14/20
The Offspring : Splinter
Punk-Rock-Etats-Unis, Avec Splinter, Offspring a encore son mot à dire, mais ce sera le dernier...
Fyrnael : 14/20