Emo
Save Our Souls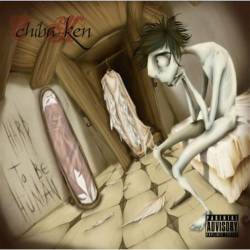 no rates
Album Name
Hard to Be Human
Released date
09 April 2009
Members owning this album
0
Tracklist
Recorded when the band's name was CHIBA-KEN.
Re-Issue in 2011 with 2 bonustracks.
1.

Paradise Lost
2.

Hard to Be Human
3.

Breaking Away
4.

Darkside
5.

Casual Sex
6.

What Do We Now ?
7.

Broken
8.

Goodbye
9.

Zero Percent
10.

Citizens
11.

Moonlight Mass
12.

Hate
Bonustracks (Re-Issue 2011)
13.

The Funeral (Digital Version)
14.

The War (Digital Version)
Review @ Jan91
After splitting up with their record label Gotham Records the band produced their second full-length album called
Hard to Be Human
.
Three
years after releasing "
Are We Innocent?
" in October 2006 the band let follow their second album.
Hard to Be Human
consists out of 12 songs. For fans who downloaded the album on internet stores like amazon and itunes for example the band recorded two bonus tracks called "The Funeral" and "The War" which are downloadable only at the US stores.
Hard to Be Human
was produced by Mike Watts who worked for artists like As Tall as Lions and by the band. The lyrics were written by singer George William. The lyrics of William deals with society problemes ("Casual Sex", "
Hard to Be Human
", "Citizens", ...), political critics ("Casual Sex", "Zero Percent", ...), Love ("
Hard to Be Human
"), War ("Hate", "The Funeral", "The War"), misusing drugs ("Zero Percent") and mental disorder ("
Hard to Be Human
", "Moonlight Mass"). The Cover-Artworks which was drawed by Lena Brunstein shows an naked angel without wings (the wings hanging in a wardrobe) sitting on his bed. He looks with sad eyes into a mirror where the angel looks very angry. The cover is one of the good cover-artworks I have seen on their myspace-domain which was a big reason for me to ask the band if they cand send me a copy of their album which they have done (Thank you for this) because the album was not available for sale in german music stores. One reason why the band don't sell is that they are unknown in Europe. This is really sad because the bands music style combines 30 Seconds to Mars, Faith No More, Tool and Deftones in one sound. The voice of George William is quiter on that album than "
Are We Innocent?
" and "
Faces of the Moment
" where he used screaming vocals too. The two songs where he screamed are the bonus tracks "The Funeral" and "The War". Before I come to the songs I want you to give me some attention: The eleventh track "Moonlight Mass" is not suitable for people with a mental disorder because the song deals with suicide of the protagonist. In bridge he pray to god for dying. I want say this because I fight with a mental disorder too and this song pushed me down again. So I have a please to everyone: Don't buy this album when you have suicidal thinkings because you can fall into a deep mental hole. The song "
Hard to Be Human
" is onehighlight of the album. Well it deals with mental disorder too but there are many other themes in it also. The singer want show that there are many problems in society which he shows with questions which are standing in the opposite like
good - mad, vain - misunderstood and so on. There is a tragic love story in it too. He asked his girlfriend/partner if he is good enough for he when he feels that he is not good enough for himself. At the end the listener get know that he thought about suicide. I'm excited about their new album which the band will produce this year. It is slated for the fall 2010. The second bad thing is that I don't have any lyrics about the songs of that album. (This and the thematic of Moonlight Mass are the two minus points). I asked the band if they are able send me the lyrics so I can update the album. All in all I can say
Hard to Be Human
is a awesome self-produced release. One last point: My girlfriend don't like the music of the band (I don't know why) but singer William stated in an interview in PureVolume:
"In the 5 years of our existence we have seen members come and go, promises made and broken, been praised and criticized, loved and hated. We have been both victor and victim in our young career, and the experiences encountered so far have been lessons in life that have changed us forever...Thank God we have such strong support from the family and friends that we have, because to be in a band is like swimming in a shark tank and you need as many life rafts as you can."
– George William at PureVolume
I can understand her decision because singer William stated that some people hate the band. In fact I am a fan of them but "pssst" ;)
18/20 Points! Awesome and I hope the next releases are as well as this.
Other productions from Save Our Souls
Other famous albums in Emo