Punkcore
The Casualties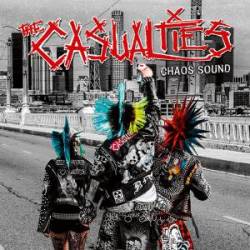 Дата релиза
22 Январь 2016
Tracklist
01.

Intro
02.

Chaos Sound
03.

Visions of Greed
04.

Running through the Night
05.

Brothers and Sisters
06.

Murder Us All
07.

Work Our Lives Away
08.

Countdown to Tomorrow
09.

Fight for What's Mine
10.

Keep Your Distance
11.

In the Lost City
12.

Bomb Blast
13.

R.A.M.O.N.E.S

.

(Motörhead cover)
14.

Halfway to Hell
15.

United Streets
Нет статьи, созданной на русский, показаны статьи из раздела на английском

Обзор @ hack
11 Март 2016
"Whoa, oh oh oh!" Any semblance of chaos is canceled out by the corny choruses.
Any booger eating moron knows that punk rock is funny. But punkcore is both funny and crazy, which makes for an entertaining listening experience. The casualties have been in this business for about twenty six years. Although they appear to be a band of flamboyant show offs, they keep a very low profile and information about them is scarce. Their two thousand nine release,
We Are All We Have
, was characterized by explosive riffs and a couple of quaint reggae infusions. Their two thousand twelve album,
Resistance
, featured harmonic textures with some Offspring influences. For eighteen dollars,
Chaos Sound
comes in a little box, with a D-ring styled key chain and a plastic poster flag displaying the album art. It's printed on a gray field, like the album cover and is a little bit smaller than most poster flags from the record stores. The album art depicts a band member holding up a can of beer to the skyline of an unspecified big city, as if to say cheers.
Vocalist Jorge Herrera is the only original band member who still remains in the line up. Other performers have come and gone, but he is the mainstay personality of the band, which is arguably the group's identity. His vocal style is very throaty, rough and abrasive, with an ignorant air of machismo. He has a very limited vocal range, so the tonal vicissitudes come through the chorus vocals. The album starts with a thirty second vocal solo of a female, who demonstrates her operatic skill. Then the two and a half minute title track kicks in with a grinding bass rhythm. A high note guitar hook blares in like a battle charging bugler. "Slam, slam!" "It's back to your roots with our radio playing, a song with no rules!" The drums sound off with a thunderous frenzy. The bass energetically shifts through an array of mid range notes. While the guitar hits some more alarming high notes.
Guitarist Jake Kolatis has been with the band since nineteen ninety three. He is inspired by
The Ramones
,
Sex Pistols
and
The Exploited
. Somebody once threw a beer bottle at his head, during a gig in Mexico City and he was tough enough to keep on playing. He usually plays fast with crisp distortion and cuts in like a saw blade. Sometimes he plays rough and tumble strumming melodies, to orchestrate their stereotypical punk messages. Countdown to Tomorrow features a very intriguing melody, with a Mideastern flair. The first twenty seconds of this two and a half minute song, are a symphonic little introduction. Jorge suddenly shouts out "countdown to tomorrow". Then the usual punkcore instrumentation jumps in to carry that melody onward with speed and explosiveness.
Rick Lopez has been with the band since nineteen ninety eight, succeeding the bass position from three past members. He is a very versatile bassist and plays a fundamental role in these musical schemes. The bass music is usually played fast with sudden note variations. Or sometimes it goes with heavy and chunky textures. Occasionally he flutters and stutters the notes, to add a tricky twist to the nuances of the compositions. In the Lost City opens with some emphatic bass notes. Then suddenly the guitar music carries on a choppy melody, which sounds very similar to the classic Judas Priest song called Running Wild. Jorge abrasively hollers out the lines; "walking down the same streets, we're seeing the changes". The drummer goes with the flow of the jam, using slower yet harder beat patterns. Then the chorus chimes in with a few pertinent lines and then follows with a commercial sounding vocal texture. "Whoa, oh oh oh!"
Marc Meggers was self taught and began playing the drums in ninety three. He has been with the band since ninety five and provides a full beat tone presence with nearly constant activity. Except at certain moments, when the emphasis is on the stringed instruments. He usually plays the bass drums at a flickering tempo, throughout these short songs. Bomb Blast starts energetic bass chugging rhythm. Jorge maniacally screams out the catch phrase, "world war three", for a total of thirteen times. The bass music continues to chug out this catchy rhythm, with some fast and aesthetic drum arrangements. Halfway in the rhythm is altered into an awesome melody. "A wasteland of nothing, hope of life is slaughtered" "Killing mother, son and daughter!
Chaos Sound
is fifteen songs that last for about thirty four minutes. Most of the tracks go for about two and a half minutes. They seem to happen so fast, that you almost miss it, if you're not paying attention. As far as the funny factor, sure they exhibit comical hairdos, but their material isn't as humorous as the
Suicidal Tendencies
'. So maybe they're more like a street punk band in that regard. The album title is over hyped and exaggerated.
Chaos Sound
didn't sound nearly as crazy as
We Are All We Have
, which was much rawer and grittier. "Whoa, oh oh oh!". Any semblance of chaos is canceled out by the corny choruses. Although they occasionally appear on their previous releases, they are much more prevalent on
Chaos Sound
, giving it a more commercial sound than usual. It still rocks out pretty good, but at a couple of notches lower than their last two albums.
Other productions from The Casualties
Other famous albums in Punkcore