Gigs Date
Sábado 31 Outubro 2020
Gigs Place
CCO Villeurbanne
Address
39 rue Georges Courteline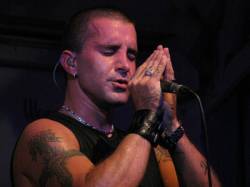 Scott Stapp
Grunge
Sounds Like Hell Productions, en accord avec Napalm Events, présente :
SCOTT STAPP, le chanteur emblématique de CREED, foulera le sol lyonnais samedi 31 octobre 2020 avec son projet solo. Dans le cadre du "Survivor Tour", SCOTT STAPP envoutera le CCO et vous délivrera un pur moment de Rock avec sa voix à la fois puissante et fragile. La setlist sera composée d'une sélection de titres issus de sa discographie solo et de quelques uns des plus grands hits de CREED.  

► SCOTT STAPP - Rock US - Etats-Unis 
SCOTT STAPP, c'est avant tout l'emblématique chanteur du groupe de Post-Grunge CREED qui a sorti successivement trois disques de platine entre 1997 et 2001. Le vocaliste américain démarre sa carrière solo après le split du groupe en 2004 et sort "The Great Divide" en 2005. Après avoir contribué à la reformation de CREED en 2009, à l'album "Full Circle" et la tournée accompagnant la sortie de celui-ci, SCOTT STAPP sort son second album solo "Proof of Life" en 2013. Après avoir traversé une période compliquée, le chanteur américain revient sur le devant de la scène en 2019 avec "The Space Between The Shadows" qui sort chez Napalm Records. Dans cet album très personnel, SCOTT STAPP aborde son combat contre l'addiction et sa dépression, ainsi que les suicides de ses amis Chester Bennington de LINKIN PARK et Chris Cornell de SOUNDGARDEN. Désormais plus en forme que jamais, SCOTT STAPP est prêt à fouler le sol de treize pays européens dans le cadre du "Survivor Tour" ! 
Facebook : https://www.facebook.com/ScottStapp
"Purpose For Pain" : https://youtu.be/wDRQXrRtE5M 
Avec CREED : "With Arms Wide Open" : https://youtu.be/99j0zLuNhi8 
L'évènement : http://bit.ly/ScottStappLyonevent
Billetterie : http://bit.ly/ScottStappLyon