Date du concert
Vendredi 22 Mars 2019
Salle du concert
Club Live & Loud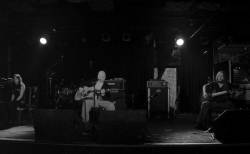 Antimatter
Rock Progressif
Tickets available worldwide at https://www.eTicketsMall.com - instant download, no delivery costs, no waiting!
Three years after fascinating Bulgarian fans for the second time, our good friend from The United Kingdom Mick Moss returns to Bulgaria for a concert with his band Antimatter.

Mick Moss is coming for a new emotional meeting with his fans in Bulgaria on March 22nd, 2019. The show will again take place at Club Live & Loud and will probably again become a meeting of friends who feel the same way about the world and art and are ready to talk about darkness and melancholy as part of the sense of life.

As a sincere and open composer and musician, Mick Moss is always honest with himself in front of the mirror of his own music and hence in front of his audience.

In the new album of Antimatter Black Market Enlightenment, which has been worked on for 18 months and is about to come out on November 9, 2018, he reveals a dark period of his life, full of substance abuse, deeper insight into himself and doubt of his own existence. It is the Black Market Enlightenment that will be presented at the upcoming concert, as well as already familiar songs from the previous 6 studio albums of the band.

The new album can now be pre-ordered at https://antimatter.bigcartel.com/
On the day of the event, if there are tickets left, they will be sold only at the door at a price to be announced later.