Punk-Rock
Public Image Limited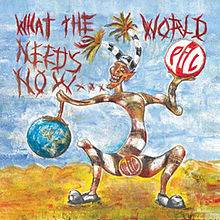 Band Name
Public Image Limited
Album Name
What the World Needs Now...
Data de aparición
04 Septiembre 2015
Miembros poseen este álbum
2
Tracklist
1.

Double Trouble
2.

Know Now
3.

Bettie Page
4.

C'est la Vie
5.

Spice of Choice
6.

The One
7.

Whole Life Time
9.

I'm Not Satisfied
10.

Corporate
11.

Shoom
Ningun artículo encontrado en Español, los artículos de la sección inglesa son fijados.

Crónica @ hack
25 Diciembre 2015
...the exuberant X rated edition...
Their ninety two release,
That What Is Not
, rocked out hard with some influences from the
Dead Kennedys
. Then they took a twenty year hiatus. Their two thousand twelve comeback
Album
,
This Is PiL
, was a throwback to their earlier years and sounded like The
Second Edition
. John Lydon is more than just a performing artist. He is also talented in the visual arts and created the
Album
artwork. This latest release features a possible caricature of Barrack Obama wearing a jester hat on the front cover. When you open the trifold digipack, then there is the identical figure again, except he is naked with his genitals uncovered. Open the right flap and there is a caricature of Betty Page who appears topless. Pull the disc off of the center panel and there is a sketch of a nude man chasing a naked woman. So will
What the World Needs Now...
be as controversial as God Save the
Queen
by The
Sex Pistols
?
John Lydon is married and has a kid. He studies the fruity characters in London's gay bars, to find comical mannerisms to use in his performances. At age fifty nine his vocals and eccentric act are just as strong as ever. He yells and acts like an imbecile, the way a good punk front man should. Sometimes he uses funny cartoon like voices which are very entertaining. During the mellower songs, he sings in a calmer fashion with his personal peculiarities. Double Trouble begins with a bouncy bass rhythm, that's played with unassuming mid range notes. The vocals are verbalized in anger; "what you fucking nagging again, about what? The toilet's fucking broken again...." Then a fast paced guitar melody soon cuts in, with a retro rockabilly approach, sounding sort of like Rock Lobster by The B-52s. The guitar music slices and dices with catchy hooks. "I want the trouble trouble trouble, on the double double double!" The percussive perfprfomance is moderately active, with some cymbal crashing. "And in the meantime... we'll get a bucket."
Guitarist Lu Edmonds is fifty eight years of age and grew up in foreign countries, where he was exposed to exotic instruments. Punk rock and new wave music are his specialties. He works with a number of side projects as well. His fancy high note picking is reminiscent of Keith Levene from the earlier PIL
Album
s. Sometimes he uses an awkward squawk and grind approach like classic sixties era
Syd Barrett
. His use of Turkish folk instruments add much depth to the music, with kaleidoscopic textures. Track number three is entitled Bettie Page. Betty Page was a model who posed clothed for sadomasochism magazines in the forties and then nude for girly magazines in the fifties. The music starts with a mysterious guitar melody and a dark bass rhythm. Which sounds like the classic
Pink Floyd
track Lucifer Sam. "And she was censored in the greatest pornographic country in the world. Well welcome to
America
!" He blurts out some of his lines in a comical voice.
Traditionally PIL relies on a strong bassist to anchor their songs. Scott Firth has played as a session musician for a number of famous pop acts. He has been with PIL since their reunion and provides their bass and keyboard music. His repertoire ranges from new wave to reggae adaptations of punk. Sometimes he yields a crusty sound to enhance the guitar riffs. When the bass is the dominant presence, he goes with a deep disco style, with elaborate rhythms. Whole Life Time features rich bass rhythms tweaked with a flexibility reminiscent of the late
Tommy Bolin
's band style of music. "It takes a whole life time, being sorry to you. It takes a whole life time, for what happened to me." The vocals are sung calmly, with a slight reverberation effect. There is a little bit of piano music sparkling in the background, from time to time. The ambiance is enhanced with synthesizer sound effects and high note guitar picking.
Drummer Bruce Smith had played with the band for four years during the eighties. Then he returned in the two thousand nine reunion. He started out with post punk in the seventies and still plays with post punk bands to this day. The drum music isn't very decorative, just plain and flat. He plays a minimal role, while the others perform much more aesthetically. The band got greater flair and pizzazz from the jazz drummer, that they had on their debut
Album
. Track seven is entitled the odd name of Shoom. The alleged meaning of shoom is the sound made when information flies past a person's comprehension. At first it sounds like new wave and then it goes along the lines of industrial rock. There is an extra deep bass resonance like a synthesizer, playing a robot scheme like Rammstein or maybe
Kraftwerk
. "Fuck you, fuck off, fuck sex, it's bollocks." Bollocks is supposed to be vulgar slang for the testicles. The keyboard music chimes in to widen the ambiance. Lydon hollers out the catch lines, "
What the World Needs Now...
is another fuck off!"
The band has grown a lot in the way of musical quality. They continue to improve their groove and chemistry on this release. The musicians all contribute to the songwriting and Lydon writes all of the lyrics as usual. They came back to us integrating the rawer elements of seventies punk with classical Eastern textures. Some of the music has been borrowed from catchy songs of other classic artists. But the track list is still checkered with a few mellow songs that have cheesy folk or reggae influences. They grab your attention with some shock rock. There is plenty of cussing, crudity and nudity. I don't recall Lydon ever using so much profanity on a past
Album
.
What the World Needs Now...
is the exuberant X rated edition of their catalog. It's not so controversial by today's standards, because the public isn't as naive and conservative as they were back in the seventies. Nobody gets away with insulting the
Queen
of England anyway.
Merry Xmas, rockers!
Other productions from Public Image Limited
Other famous albums in Punk-Rock