Grunge
Soundgarden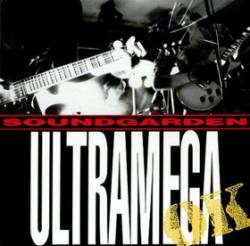 Tracklist
1.

Flower

03:25

2.

All Your Lies

03:51

3.

665

01:37

4.

Beyond the Wheel

04:20

5.

667

00:56

6.

Mood for Trouble

04:21

7.

Circle of Power

02:05

8.

He Didn't

02:47

9.

Smokestack Lightning

05:07

10.

Nazi Driver

03:52

11.

Head Injury

02:22

12.

Incessant Mace

06:22

13.

One Minute of Silence

01:00

Total playing time

42:05
Ningun artículo encontrado en Español, los artículos de la sección inglesa son fijados.

Crónica @ hack
12 Agosto 2016
...not just Ultramega Ok, it's ultramega good.
Individuation is how young people express that they are different and independent from their elders. In the eighties, most young people were listening to "eighties hair metal" or hard rock. Punk and alternative were also prevalent. But the grunge style was Washington state's best kept secret for several years. So some key artists concocted some new strains of old rock ideas and even some obscure foreign influences. Which produced an unconventional subgenre of alternative rock. The early forerunners were
Malfunkshun
and The
U-Men
with their dirty sound quality. But by the mid eighties, the main contenders were
The Melvins
,
Green River
and
Soundgarden
. It took them only a few years before they released two short extended plays for Sub Pop. Then in eighty eight they signed with SST Records, who specializes in alternative and punk rock.
Singer/songwriter/rhythm guitarist
Chris Cornell
grew up in a large family, in which five siblings were trained as musicians or singers. He started out in a cover band called The Shemps, who played in the Seattle nightclub circuits. But soon would make some new friends, who helped to comprise
Soundgarden
. Usually he sings at a high pitched baritone, with a very strong voice and a tough act to follow. He can aggressively carry a high note for an impressionable amount of time, with his strong set of lungs. His ability has been described as possessing a quadruple octave range. The fourth song, Beyond the Wheel, starts with heavily distorted guitar strumming to produce a surreal ambiance. Cornell utters with a grim attitude; "far beyond the road, between your house and home. There is a churning storm of hailing burning bones." The drums kick in and the rhythm guitar joins with a hovering presence like some Hindu folk music. The bass music gets heavier and accentuates the atmosphere with distressed and doom like textures. The vocals are then hollered out with a commanding demeanor. "Spin your life around, by driving flesh and blood deep into the ground."
Lead Guitarist Kim Thayil is the son of Asian Indian parents and was born in Seattle in nineteen sixty. He went to high school with bassist Hiro Yamamoto and then they attended The University of Washington, where they met
Chris Cornell
. His early influences were punk rock, along with some Asian inclinations. He is dexterous at picking intricate melodies and gifted at harmoniously coordinating many notes. Sometimes he goes with shoe gaze effects and dramatic time changes, The seventh track, Circle of Power, starts with energetic shredding and distorted riff shifting. The vocals cut in with a crazed sounding
Chris
. "The day will finally come, cause we have conquered a kingdom of rage, covered with assholes." The bass plucking is inhumanly fast and crashes like a derailed train. The drum music tumbles in with stuttering and fluttering beat patterns. The maniacal screaming voice returns; "well it's the circle of power and it's all the same. Ah the circle spinning and it's under different names."
Bassist Hiro Yamamoto is influenced by the heavy metal and alternative genres. He bounces the notes at mid range to coincide with the upbeat guitar grooves. His presence is recognizable, but he usually plays a modest role to the guitar duo. He provides some depth and ambiance, but sometimes he rises to the occasion with emphatic chugging notes. The eighth song, He Didn't, features intricate guitar picking with an ascending succession of notes followed by a descending succession of notes. Which creates a curious circling and spinning texture. The bass rhythms seem to propel the momentum with some time change imbalances. It's animated with a loud and semi raspy voice. "He did nothing perfectly. He did nothing quite well." The guitar picking duet sounds very aesthetic with their kaleidoscopic groove. The drum playing is hard and loud with some beat tone assortments. "He failed and he failed quite miserably. What's better he never had to try."
Drummer Matt Cameron specializes in alternative and grunge music. He started out with an early and influential grunge band called Skinyard, in eighty five. Then he quit Skinyard and joined
Soundgarden
in eighty six, which was probably his biggest break. The drum presence is active with a variety of beat tones, but isn't too melodic. It flows with the time changes of the songs and can punctuate the stringed performances. But it's definitely not one of the main attractions. The tenth track, Nazi Driver, starts with a bumbling bass rhythm and a couple of high note riffs. It's played at a medium tempo, yet with a calm and soft atmosphere. Cornell sings with a powerful and raspy voice; "turn the head three hundred and sixty degrees, bite the hand that feeds." Then about halfway in, the lead guitar goes with a cosmic sounding high note hook. Which is reminiscent of the old Hendrix song, Highway Chile. The eclectic beat tone variation from the drums add some additional character.
Prior to nineteen ninety eight, The Melvin's brand of grunge sounded like dirty stoner rock mixed with noise music. And
Green River
sounded like sludge crossed with punk rock. Then came soundgarden who featured much stronger vocal and guitar performances. But the most integral strength was probably in the songwriting. They progressed the grunge genre with a semi psychedelic sound of stoner rock, combined with Southwest Asian styled textures. It was arguably the best grunge release at that time. It's not just
Ultramega Ok
, it's ultramega good. But it wasn't without its limitations. There were a couple of pointless sound effect tracks and a couple of lightly textured tracks. Then there was a dull slower song that sounds so generic and predictable. As far as commercial success, the grunge genre was mostly unknown to the rest of the country (or world), during those early years of development.
Other productions from Soundgarden
Other famous albums in Grunge