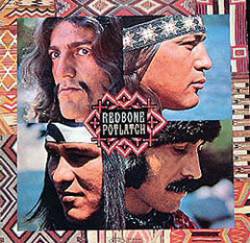 Tracklist
1970
The songs
previous next
The second "Redbone" album contains their first hit: "Maggie"

.

It's not often that I like big hits (in general) but this one has something special

.

The two brothers share the lead vocals (they both have great voices)

.

Shorter songs, no instrumentals, Redbone was trying to get on the radios as much as possible

.

But they didn't loose their unique sound, on the contrary, it was condensed and stronger

.

Tony doesn't sing any leads on this one.
Lyrics
Lyrics
Maggie (lead vocal : Lolly)
Light as a Feather (lead vocal : Pat)
Who Can Say? (lead vocal : Lolly)
Judgment Day (lead vocal : Lolly)
Without Reservation (lead vocal : Lolly)
Chant: 13th Hour (lead vocal : Pat)
Alcatraz (lead vocal : Pat)
Drinkin' and Blo (lead vocal : Lolly)
Bad News Ain't No News at All (lead : Band)
New Blue Sermonette (lead vocal : L