Pop Rock
The Beatles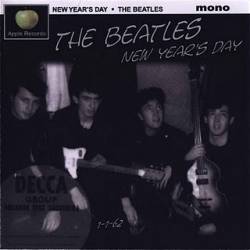 Tracklist
Recorded Live at Decca Studios, Broadhurst Gardens, London, UK, 01/01/1962
1.

Like Dreamers Do
2.

Money (that's What I Want)
3.

Till there Was You
4.

The Sheik of Araby
5.

To Know Her Is to Love Her
6.

Take Good Care of My Baby
7.

Memphis, Tennessee
8.

Sure to Fall (in Love with You)
9.

Hello Little Girl
10.

Three Cool Cats
11.

Crying, Waiting, Hoping
12.

Love of the Loved
13.

September in the Rain
14.

Besame Mucho
15.

Searchin'
Ningun artículo encontrado en Español, los artículos de la sección inglesa son fijados.

Comentario @ WebOn
One of the biggest mistakes in music industry history
On 1 January 1962, before they reached international stardom, the Beatles auditioned for Decca Records at Decca Studios in West Hampstead, north London. In what is considered one of the biggest mistakes in music industry history, Decca decided to reject the band, selecting instead Brian Poole and the Tremeloes.
Manager Brian Epstein made numerous trips to London to visit record companies with the hope of securing a record contract but was rejected by many, including Columbia, Pye, Philips, and Oriole. Neil Aspinall drove the Beatles down to London on New Year's Eve, in 1961, for a Decca audition but lost his way, and the trip took ten hours.They arrived at 10 o'clock at night, and
John Lennon
said they arrived "just in time to see the drunks jumping in the Trafalgar Square fountain".
On Monday 1 January 1962 at 11:00am,
Paul McCartney
,
John Lennon
,
George Harrison
and Pete Best were auditioned by Decca staff and performed a total of fifteen songs in just under one hour. Epstein and the Beatles decided on a selection of songs the Beatles had performed in various clubs over the years, along with three Lennon–McCartney originals.
The songs played at the audition were recorded.
The Beatles
subsequently came to believe that Epstein had paid Decca to tape the audition. Although it has sometimes been asserted, most notably by
John Lennon
, that Decca producer Tony Meehan (ex-drummer of the
Shadows
) produced the Decca audition session, current scholarship considers this unlikely.
The order of the songs at the session was:
"Like Dreamers Do" (
John Lennon
/
Paul McCartney
)
"Money (That's What I Want)" (Gordy/Bradford) (unreleased version)
"Till There Was You" (Meredith Willson) (unreleased version)
"The Sheik of Araby" (Smith/Wheeler/Snyder)
"To Know Her Is to
Love
Her" (Phil Spector) (unreleased version)
"Take Good Care of My Baby" (King/Goffin) (unreleased)
"Memphis, Tennessee" (
Chuck Berry
) (unreleased version)
"Sure to Fall (In
Love
with You)" (Cantrell/Claunch/Perkins) (unreleased version)
"Hello Little Girl" (Lennon/McCartney)
"
Three
Cool Cats" (Leiber/Stoller)
"Crying, Waiting, Hoping" (Buddy Holly) (unreleased version)
"
Love
of the
Love
d" (Lennon/McCartney) (unreleased)
"September in the Rain" (Warren/Dubin) (unreleased)
"Bésame Mucho" (Consuelo Velázquez) (unreleased version)
"Searchin'" (Leiber/Stoller)
Other productions from The Beatles
Other famous albums in Pop Rock